Amazon to bring solar farm to Gretna
See this article as it originally appeared in the Chatham Star-Tribune here.
Amazon to bring solar farm to Gretna
By MATT BELL Star-Tribune Senior Staff Writer Aug 1, 2019 Updated 23 hrs ago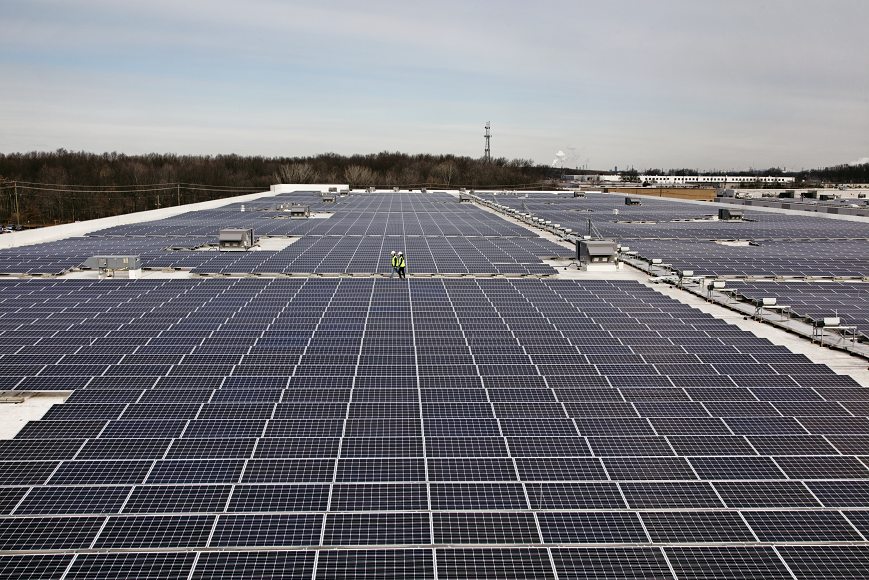 A rooftop solar project produces clean energy for Amazon.
Photo Courtesy: Amazon
Business giant Amazon, based in Seattle, Washington, announced plans Thursday, Aug. 1 to build a solar farm in Gretna, Virginia. 
The 45-megawatt solar farm will be built on land owned by Luther, Dianne, and Terri Moon.
"Approximately 10 acres represents one megawatt of electricity," Danny Marshall from the Virginia House of Delegates said. "What Amazon has told us from day one is they want to be on 100-percent clean energy."
The solar farm will be capable of producing 100,000 megawatt hours of clean energy per year.
"This site had already been approved by all the required local authorities, so a solar farm was a guarantee," Pittsylvania County Board of Supervisors' Callands-Gretna Supervisor Ben Farmer said. 
On May 21, the Pittsylvania County Planning Commission gave the board of zoning appeals (BZA) their unanimous go-ahead for approval for the Moon property. 
The Moon's petitioned the planning commission and BZA on March 28, 2019 for a special use permit on a total of 700.72 acres for nine parcels of land. 
The parcels are located on Taylors Mill Road, Galveston Road, and East Gretna Road.
The solar project, which was presented as Whitehorn Solar, LLC, was the first to go before the planning commission and have no opposition from the community. 
Power from the facility will be delivered to 68 kilovolt transmission lines owned by Virginia Electric and Power Company. 
Amazon was unable to find land in Northern Virginia for a solar farm according to Marshall, and began to look elsewhere. 
Pittsylvania County filled the bill.
"Now learning that Pittsylvania County will be associated with such a global company such as Amazon is just a wonderful bonus. I am excited about this announcement and what other possibilities it could mean for our future investment into our community," Farmer said. 
Marshall said while he is thrilled to welcome Amazon to Pittsylvania County, he is already in talks with them about future development that would bring jobs to the area.
"I would like to see a data center come to our area," Marshall said. 
State senator Bill Stanley agreed with Marshall.
Stanley also said Amazon is not only committed to Northern Virginia, but to all of Virginia. 
Eight solar farms have received recommendation by the planning commission. Of the eight, seven have received approval by the BZA. 
Only four of the seven BZA approved projects have a buyer for the solar energy. 
The Kentuck, Ringgold, and Whitmell solar projects will supply power to Danville Utilities. Currently, only the Kentuck project is operational.
The Amazon solar farm is the fourth project to have a location in Pittsylvania County. 
The remaining three solar farm projects, which are located in Climax, Cascade, and Hurt are still waiting to secure buyers for their energy.
An updated story will be available in the Wednesday, Aug. 7 edition of the Star-Tribune.
***************
ORIGINAL STORY: Amazon announced today, Aug. 1, the company's 65th and 66th renewable energy projects.
Amazon's newest renewable energy project in the U.S. will be located in Pittsylvania County, Virginia, and will be the seventh Amazon Solar Farm in the Commonwealth of Virginia.
Once complete, the new Amazon Solar Farm will provide 45 megawatts (MW) of renewable capacity and is expected to generate 100,000 megawatt hours (MWh) of clean energy annually. Both projects are expected to begin producing clean energy in 2020 and will supply clean energy to the company's Amazon Web Services datacenters, which power Amazon and millions of AWS customers globally.
Additionally, Amazon's investments in renewable energy were recently recognized in the Solar Energy Industries Association's (SEIA) 2018 Solar Means Business Report, which ranked Amazon #1 in the U.S. for amount of corporate on-site solar installed in 2018, and #2 for total amount of solar installed to date. Amazon's solar projects in the U.S. have offset the CO2 equivalent of more than 200 million miles of truck deliveries. Globally, Amazon has 66 renewable energy projects – including 51 solar rooftops – that are expected to generate 1,342 MW of renewable capacity and deliver more than 3.9 million MWh of clean energy annually.
"Playing a significant role in helping to reduce the sources of human-induced climate change is an important commitment for Amazon," said Kara Hurst, Director of Sustainability, Amazon. "Major investments in renewable energy are a critical step to address our carbon footprint globally. We will continue to invest in these projects, and look forward to additional investments this year and beyond."
"Under the Climate Action Plan, we are committing that 70 percent of Ireland's electricity will come from renewable sources by 2030. Industry leadership is key to helping us reach this target," said Richard Bruton, Ireland's Minister for Communications, Climate Action and Environment.
"This project is another example of AWS's commitment to renewable projects in Ireland, adding clean energy to the grid, and supporting Ireland's climate commitments. Construction will begin on this project this year and will start contributing to Ireland's renewable energy capacity by 2020. We look forward to continuing to work with AWS as we strive to make Ireland a leader in the renewable energy space."
"I applaud Amazon for their continued investment in clean and renewable energy projects in the Commonwealth of Virginia," said Virginia Senator Mark R. Warner. "This solar energy project in Pittsylvania County will lead to a cleaner environment and more jobs in the community."
"It's wonderful to see the announcement of these new projects, which will help bring more renewable energy to the Commonwealth of Virginia where Amazon has already helped bring significant solar energy projects online," said Virginia Governor Ralph Northam. "Amazon's new solar farm in Virginia will create jobs and economic development in rural Virginia, and will continue to build upon our role as a leading state for renewable energy in the U.S."
Amazon's newest renewable energy project in the EU will be located in Cork, Ireland, and will be the second Amazon Wind Farm in the Republic of Ireland. Once complete, the new Amazon Wind Farm will provide 23.2 megawatts (MW) of renewable capacity, with expected generation of 68,000 megawatt hours (MWh) of clean energy annually.
Beyond investments in wind and solar, Amazon has a long history of commitment to sustainability through innovative programs such as Shipment Zero, Frustration-Free Packaging, Ships in Own Container, investments in the circular economy with the Closed Loop Fund, and numerous other initiatives happening every day by teams across Amazon.
Amazon has also implemented the District Energy Project that uses recycled energy to heat and cool more than 3 million square feet of office space. For more information on Amazon's sustainability initiatives, visit www.amazon.com/sustainability.